Sidemeat
is the faithful sidekick and cook to
Riders In The Sky
. He was initially created for the Riders' first television series,
Tumbleweed Theater
, but later made appearances in the Riders' live appearances and albums. He is portrayed by Fred LaBour (Too Slim).
In Riders Radio Theater (1988-1995) Edit
Sidemeat was the first character outside of Riders In The Sky to appear on Riders Radio Theater. He was introduced in the first episode, Meltdown on the Mesa 101, when came out and told the audience about the "cry of the sidekick" and sang Sidekick Heaven with Woody Paul and Ranger Doug, where he described his dream where he met Gabby Hayes, who took gave him a tour of Sidekick Heaven.
Notable Songs Performed By Sidemeat
Edit
Sidekick Heaven

06:54

Sidekick Heaven by Sidemeat

Reincarnation

03:46

Reincarnation by Sidemeat

Biscuit Blues

03:26

Biscuit Blues by Sidemeat

Let Us Now Praise Gabby Hayes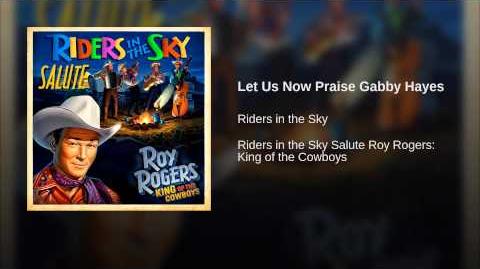 Ad blocker interference detected!
Wikia is a free-to-use site that makes money from advertising. We have a modified experience for viewers using ad blockers

Wikia is not accessible if you've made further modifications. Remove the custom ad blocker rule(s) and the page will load as expected.